Elevate Your Surveillance with HIKVISION DS-7616NI-I2/16P 16-ch 1U 16 PoE 4K NVR
When it comes to advanced video surveillance solutions, HIKVISION stands out as an industry leader, revolutionizing the way businesses safeguard their assets. Through our strategic partnership with HIKD, a trusted collaborator, we proudly present the HIKVISION DS-7616NI-I2/16P 16-ch 1U 16 PoE 4K NVR. This powerful network video recorder combines the expertise of HIKVISION with the exceptional services of HIKD, delivering unrivaled features and capabilities. Let's explore why the DS-7616NI-I2/16P NVR is the ultimate choice for enhancing your security infrastructure.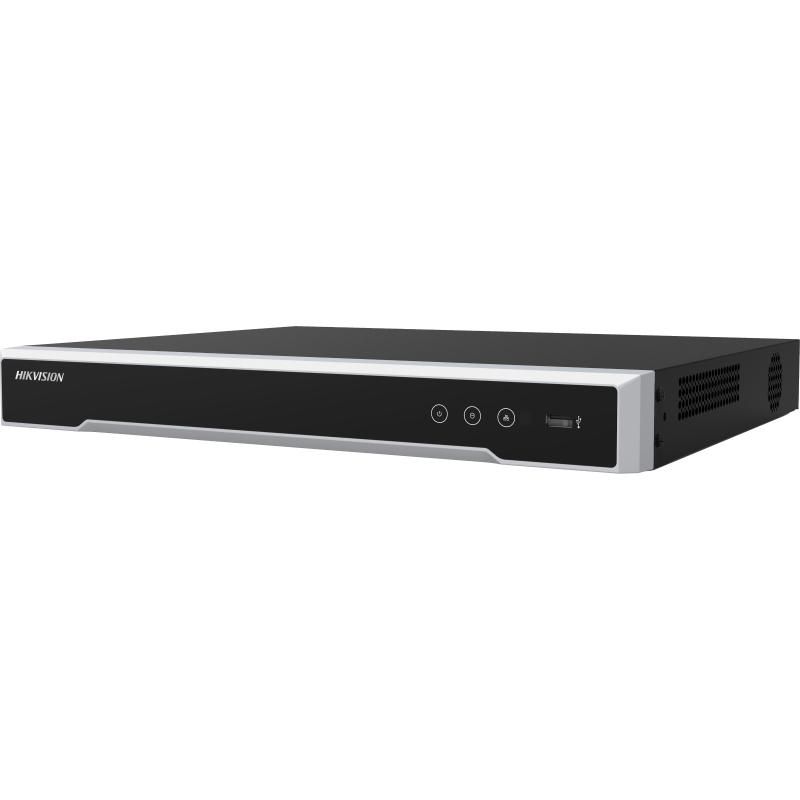 Seamless Connectivity: With the DS-7616NI-I2/16P NVR, you can effortlessly connect up to 16 IP cameras, providing comprehensive coverage of your surveillance network. As a result of our collaboration with HIKD, we offer a wide range of compatible cameras, ensuring seamless integration into your existing surveillance ecosystem. Together, we empower you to create a surveillance solution tailored to your unique requirements, enabling effective monitoring and protection of your premises.
Unmatched Decoding Capacity: Equipped with up to 2-ch @ 12 MP or 16-ch @ 1080p decoding capacity, the DS-7616NI-I2/16P NVR ensures exceptional video processing performance. This capability allows you to capture and analyze high-resolution footage with remarkable clarity, enabling you to identify crucial details and make informed decisions based on accurate information.
Versatile Video Output: The DS-7616NI-I2/16P NVR features 1 HDMI and 1 VGA interfaces, both supporting independent video output. This versatility allows you to connect to a variety of display devices, including high-definition monitors and VGA-enabled screens. With such flexibility, you have complete control over how you view and manage your surveillance feeds.
Reliable Storage and Functionality: Featuring two HDD slots, the DS-7616NI-I2/16P NVR ensures continuous video recording without worrying about storage limitations. This allows you to retain crucial footage for future reference and analysis. Moreover, this NVR supports a range of special function cameras, including thermal cameras, fisheye cameras, people counting cameras, heatmap cameras, and ANPR (automatic number plate recognition) cameras. These specialized cameras enhance the effectiveness of your surveillance system, enabling you to address specific security challenges.
Uninterrupted Performance: The DS-7616NI-I2/16P NVR incorporates advanced streaming technology, ensuring smooth live view even in poor network conditions. It employs data self-correction mechanisms, guaranteeing stable and reliable video streams, even when network connectivity fluctuates. With this NVR, you can maintain uninterrupted surveillance operations, ensuring constant vigilance and enhanced situational awareness.
Efficient Recording and Bandwidth Management: With support for dual-stream recording, the DS-7616NI-I2/16P NVR optimizes both time and bandwidth. By simultaneously capturing video footage in two different resolutions, you can save valuable storage space while ensuring that critical moments are captured with the highest quality for detailed analysis and evidence preservation.
Conclusion: Partnering with HIKD, we bring you the HIKVISION DS-7616NI-I2/16P 16-ch 1U 16 PoE 4K NVR, a game-changing solution that takes your security infrastructure to new heights. Explore the possibilities of seamless connectivity, unmatched decoding capacity, versatile video output options, reliable storage, and advanced functionality. Count on HIKD, a prominent HIKVISION collaborator, for access to the latest innovative products and dedicated customer support. Visit our website at https://www.hikdistribution.com to discover the complete range of HIKVISION video surveillance solutions. Trust in our partnership to elevate your surveillance capabilities and ensure the utmost protection for your business. Contact us at sales@hikdistribution.com to inquire about the DS-7616NI-I2/16P NVR and take a step towards a safer future.
About Author