Discover the power of the HIKVISION DS-2SF8C425MXG-ELW/26 TandemVu Network Speed Dome, offering comprehensive surveillance capabilities, exceptional image quality, and advanced features. Partner with HIKD, a leading sales channel, to access top-quality HIKVISION products and expert support. Visit HIKD's website today for more information.
When it comes to advanced surveillance solutions, HIKVISION is a name that stands out. The DS-2SF8C425MXG-ELW/26 TandemVu Network Speed Dome is a cutting-edge offering from HIKVISION, designed to provide unmatched performance and comprehensive coverage for your security needs. Let's explore the exceptional features and capabilities of this remarkable device.
One of the standout features of the DS-2SF8C425MXG-ELW/26 is its ability to capture a large area while maintaining excellent detail. With its 8-inch panoramic lens and 4 MP resolution, this speed dome ensures that no aspect of your surveillance area goes unnoticed. The bullet channel further enhances imaging quality with its impressive 6 MP resolution, delivering crystal-clear footage.
Equipped with DarkFighter technology, the DS-2SF8C425MXG-ELW/26 excels in low-light conditions. It offers 24/7 colorful imaging, allowing you to capture vivid and detailed footage even in challenging lighting environments. Whether it's daytime or nighttime, this speed dome ensures exceptional image quality and clarity.
Flexibility is a key aspect of the DS-2SF8C425MXG-ELW/26. Its panoramic channel allows for tilt adjustment ranging from 12° to 24°, providing you with the flexibility to focus on specific areas of interest within the surveillance area. With its 25x optical zoom and 16x digital zoom capabilities, you can seamlessly zoom in and out to capture fine details or monitor expansive areas without compromising image quality.
Hikvision DS-2SF8C425MXG-ELW/26 TandemVu 8-inch Panoramic 4 MP 25X DarkFighter Network Speed Dome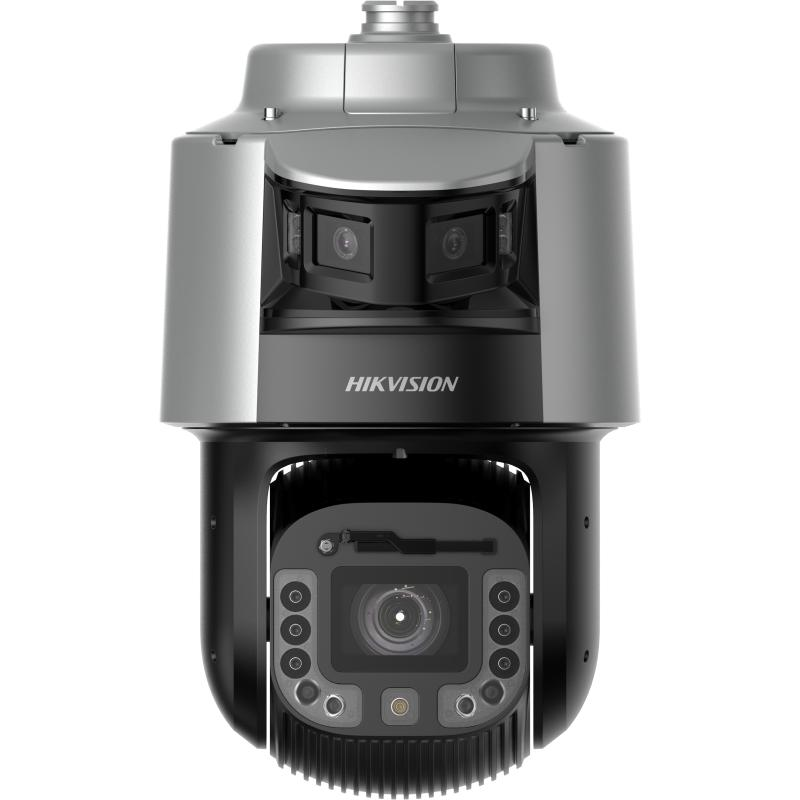 TandemVu 8-inch Panoramic 4 MP 25X DarkFighter Network Speed Dome
Captures a large area and great details at the same time
High quality imaging with 6 MP resolution for bullet channel
24/7 colorful imaging and excellent low-light performance with DarkFighter technology
Panoramic channel tilt adjustable from 12° to 24°
Secures an expansive area with 25 × optical zoom and 16 × digital zoom
Expansive night view with up to 30 m white light distance and 300 m IR distance
Supports deep learning functions
Water and dust resistant (IP67) and vandal resistant (IK10)
When it comes to night vision, the DS-2SF8C425MXG-ELW/26 truly shines. It boasts an impressive 30-meter white light distance and a remarkable 300-meter IR distance, ensuring clear visibility even in complete darkness. With this speed dome, you can confidently monitor your premises round the clock, knowing that no activity will go unnoticed.
The DS-2SF8C425MXG-ELW/26 also supports deep learning functions, enabling advanced video analytics and intelligent detection. This empowers you to proactively identify and respond to potential security threats, enhancing the overall effectiveness of your surveillance system.
In terms of durability, the DS-2SF8C425MXG-ELW/26 is built to withstand various environmental challenges. It is water and dust resistant with an IP67 rating, ensuring reliable performance even in harsh weather conditions. Additionally, its vandal-resistant design with an IK10 rating provides added protection against physical tampering.
Now, let's talk about HIKD, your reliable partner in accessing HIKVISION products. HIKD is a trusted sales channel for HIKVISION solutions, offering a wide range of cutting-edge video surveillance products. With a focus on competitive pricing and professional service, HIKD ensures that you have access to top-quality products and a dedicated support team to assist you throughout the entire process.
For more information about HIKD and the DS-2SF8C425MXG-ELW/26 TandemVu Network Speed Dome, visit the HIKD website at https://www.hikdistribution.com. Reach out to their sales team at sales@hikdistribution.com to explore the possibilities and find the perfect surveillance solution for your specific needs.
Unlock unparalleled surveillance capabilities with the HIKVISION DS-2SF8C425MXG-ELW/26 TandemVu Network Speed Dome. From its panoramic coverage and exceptional image quality to its advanced features and durability, this speed dome is designed
to deliver unmatched performance. Experience enhanced security and peace of mind with HIKVISION and their state-of-the-art solutions.
About Author